Have to love Versed.
Sweet Harper love had another set of tubes place in this morning.
Her Dr fished out the floating tube in her right canal and removed the left tube before surgically placing new tubes in both ears.
We're hoping these last a bit longer than the first set, more along the lines of 18+ months.
Of course, her right ear was infected and filled with fluid.
She was able to clean it out pretty well when placing the tube in.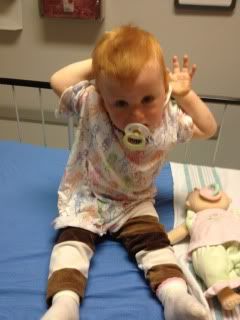 With her needing a second set before 18 months, chronic sinus/breathing issues, and enlarged adenoids those bad boys were removed as well.
The first thing she said was that she was glad we made that decision because they were entirely too large.
Massive tonsils, constant ear aches (14 on record in town, she went from April to November with out a single one too) and enlarged adenoids were causing all sorts of issues for this little sweet thing.
She is sleeping in her room now and I don't hear any snoring over the monitor.
Harper typically only uses a pacifier when sleeping the first few minutes then it just moves around her crib.
Notice her collection she has going on here.
Her favorite, in her mouth of course.
She was entertaining the nurses by putting 2-3 in at one time.
Then asking each person for some milk.
Recovery went well.
With all of her previous surgeries, eye and tubes, she didn't react well.
Hours on end of screaming.
Today, they had to wake her up and she just wanted me.
Then she crashed again.
We let her sleep it off a bit more and a nurse showed up with a Popsicle.
Downed that and off to lala land again.
The nurse then brought in a apple juice/water mixture in a bottle and she crashed once again.
Harper hasn't had juice in a bottle, ever, so she laughed when she took her first sip.
It was pretty cute.
She slept until the moment the IV was removed and I had to change her tops.
A light lunch and a little milk
lactose free of course,
she is napping again.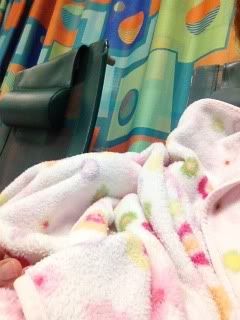 Harper kept the blanket over her head constantly until we were walking out the door.
If you moved it, she yelled and cried.
So we just let her be unless her oxygen was getting around 90 or below.
Then we would change positions, make her take a few good breaths and wake up.
Thirty seconds later, she was out.
Thank you all for the texts and calls today.
Any surgery, no matter how
big
or
small
is always in need of extra prayers.
Our main concern was her breathing and it went perfectly.
In haler before we left the house, breathing treatment before inserting the breathing tube.
I can not express just how much we
love
our ENT.
It was so cute watching how she spoke and interacted with other people.
When she came out to tell me about Harper, she jumped right on the couch next to me like we were long lost sisters.
She is one of those doctors that you can just hug and laugh with.
Maybe that is because we see her far too much.
Maybe that is because she cares about her kids so much.
What ever it is, I am so thankful that we ended up in her office a year ago.
Phone calls when she is sick at home herself just to check on Harper.
Hopefully we are on the up with Harper and can space out our visits to the doctor.